In a few steps, you can use TestGorilla assessments within Breezy
You can connect TestGorilla to your ATS. This allows you to do two things:
Invite candidates to a TestGorilla assessment from within Breezy

See the summarized assessment results of your candidates inside Breezy
This article explains how that works. The Breezy integration is available for users of the Scale and Business plans.
Approx. reading time: 3 minutes

Note: Only the owner of your TestGorilla account can set up the integration.
Step 1: Activate the integration
Log in to your TestGorilla account (
TestGorilla ) and click on your name in the top right corner of the application to open the Account Settings menu and then press Integrations: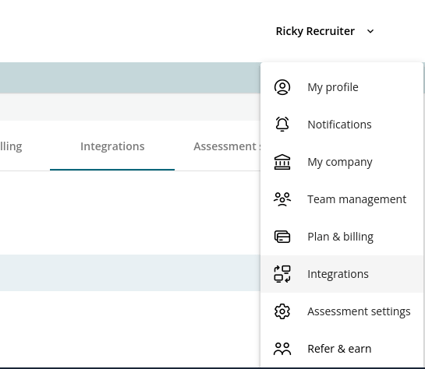 Then, on the Breezy integration, click the Enable button. You will generate and see a new API Key:

You'll need admin permissions to finish the connection in your Breezy account.
Copy the API Key, go to Settings > Recruiting Preferences > Assessments > TestGorilla in your Breezy account, insert the key, and click the "Save Changes" button.

Step 2: Create an assessment in TestGorilla
Now, your new TestGorilla's assessments will automatically be available within Breezy.

Step 3: Select the relevant TestGorilla assessment and invite a candidate
Back in the Breezy dashboard, go to Candidates > Choose a candidate > More > Assessments. The option "Send TestGorilla test" should be visible.
Select the relevant assessment on the list and click Send. The candidate should receive an e-mail to start the assessment.
Step 4: Visualize results
Once the candidate starts the assessment, the status on Breezy will be updated from "Awaiting approval" to "In progress".
Finally, when the assessment is finished, a results summary will be available. Click "View Full Report" to see the detailed results in TestGorilla.

Do you have any questions about your integration with Breezy, do let us know. We're here to help.