Yes, you can ask up to five questions to determine if your candidates are eligible to take your assessment. We call these qualifying questions.
| | |
| --- | --- |
| Applies to: | Scale, Business, Enterprise plans; Account Owner, Admin, Recruiter roles |
Some candidates may do well on your tests without satisfying your other job requirements. For example, your job may require an industry-standard certification, a driver's license, full-time availability, or relocation to the region where your office is located.

With our qualifying questions feature, you can check if your candidates satisfy these requirements before they take the assessment.

In this article, you will learn:
1. What are the benefits of qualifying questions?
Checking if your candidates satisfy necessary requirements before they take your assessment has three key benefits:
You do not waste the time of candidates who don't qualify
You do not waste your own time reviewing unqualified candidates, because only eligible candidates will be able to complete the assessment
It saves you money. You are not charged for candidates who don't pass qualifying questions.
Tip: Using qualifying questions is especially helpful if you use a public link to the assessment in your job post. This enables you to open up your assessment to a large audience, while only assessing (and paying for) qualified candidates.
2. Setting up qualifying questions
You can set up qualifying questions in Step 4 of the assessment creation process. It is one of the Advanced options. From there, click the arrow next to Qualifying questions to display the question pane. You're given two options. Select the best choice for you:
2.a Create a new question
To create a new question from scratch, click the New question button. This will cause a new window to appear with the question generator.

Type your question into the text editor on the left, add answer choices on the right, and select the correct answer to the question. Click the save the button when you're finished.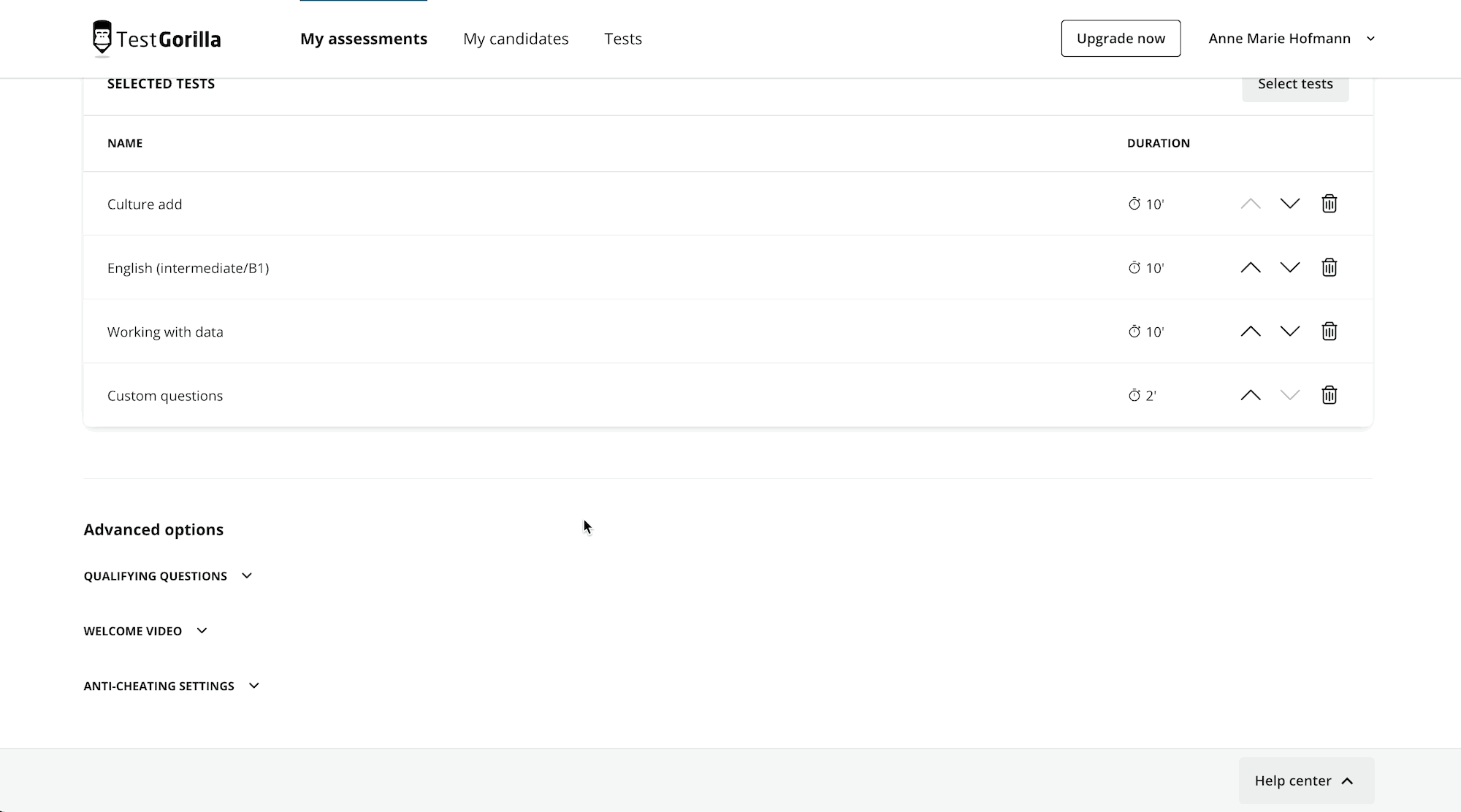 2.b Copy a question from a previous assessment
If you've used qualifying questions on a previous assessment, choosing this option allows you to reuse questions from a previous assessment.

To do this, click Copy questions from another assessment. Select the assessment you'd like to pick a question from, and then select the question(s) you'd like to use.

If you can't remember which assessment contained a question, but you you think the question has been added before, you can also use the search bar to find the relevant question.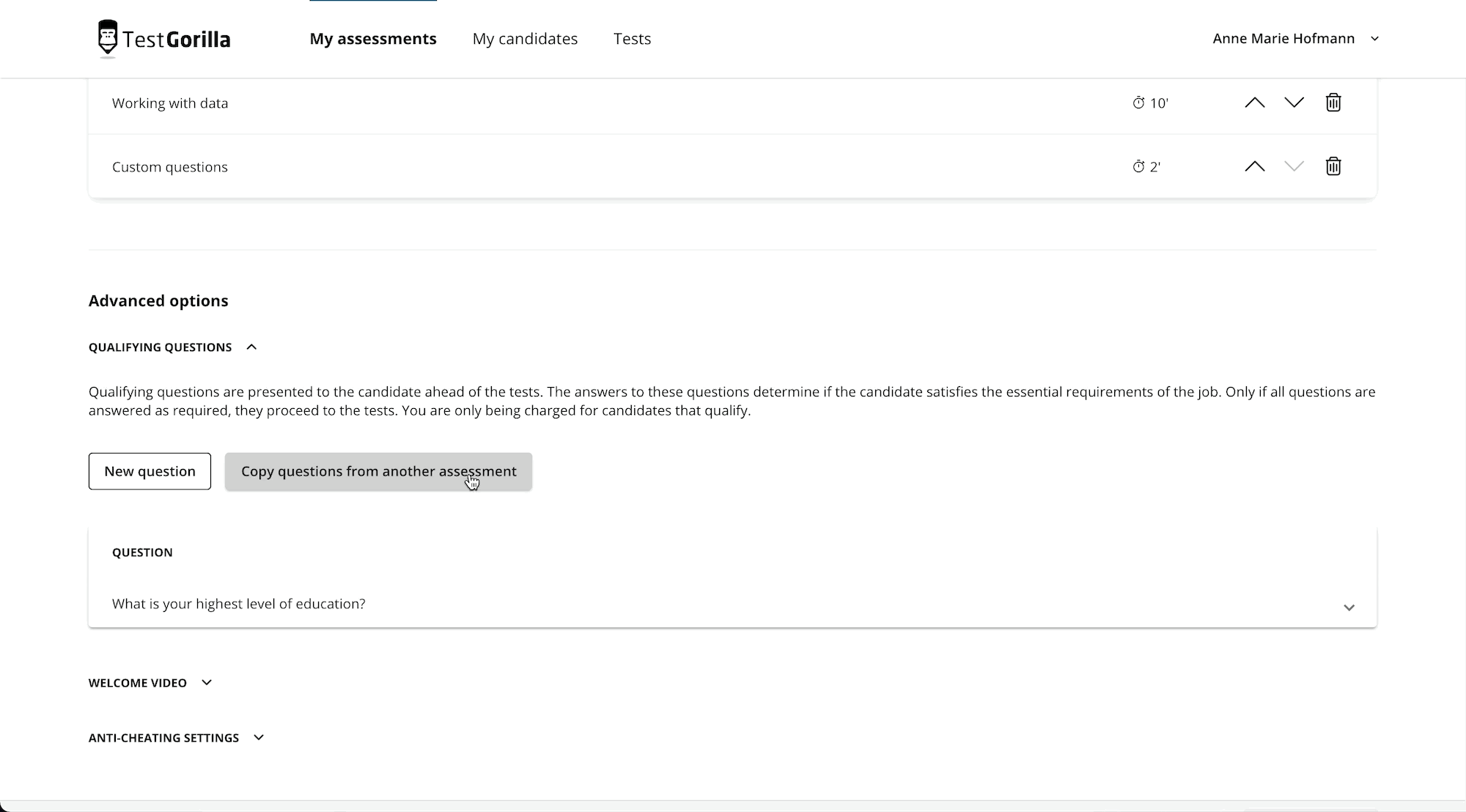 Note: You can create a maximum of five qualifying questions for each assessment.
3. Edit and reorder questions
You can click on the pencil icon to the right of a question to make any edits. Remember to click Save after you've made your changes.



To reorder questions, click the up and down arrows to the right of the question.



Caution: You cannot make changes to any part of an assessment once you invite your first candidate, so it's important to double check that you have set up these questions exactly as you want them before inviting any candidates.
4. Check what answer was chosen for a qualifying question
Perhaps you forgot what answer you picked for a qualifying question, or you've noticed a lot of people are being disqualified, so you want to double check which answer you picked to a question in a live assessment.

To do this, locate the assessment on the My assessments tab, and click on it. Scroll down to the Advanced options and find the Qualifying questions section. Unfold it by clicking the down arrow.

Find the question you want and click the down arrow one last time to unfold the answer. You'll see the question, the answer choices provided, and the correct answer highlighted in teal.

Tip: If it turns out that the answer chosen as 'correct' is not actually the answer you intended as the right answer, get in touch with our support team so we can help you with next steps.
5. Identify disqualified candidates
Disqualified candidates are immediately given the status of Rejected, so in the assessment overview, disqualified candidates will be included in the red part of the progress bar.

In addition to being give the status of Rejected, in the candidate overview of your assessment, disqualified candidates get a

label:

Back to top
Support
If you still need help, you can always reach out to the support team. We're happy to answer your questions.