Need help reviewing your candidates' assessments? This article explains how!
| | |
| --- | --- |
| Applies to: | Free, Pay as you go, Scale, Business plans; Owner, Admin, Recruiter, Hiring manager roles |
Once your candidates complete their assessments, it's time to review and analyze the results!

You can view who your top candidates are based on the averages shown on the main candidate page of the assessment, but TestGorilla's analysis tools go much deeper than that.
Note: This guide illustrates the general steps of analyzing the results of your candidates. The results can look different depending on the specific tests you've selected.
General overview of all candidate results
Log in to your TestGorilla account to view the My assessments page. This page gives you an overview of all your assessments. Select the assessment you'd like to analyze.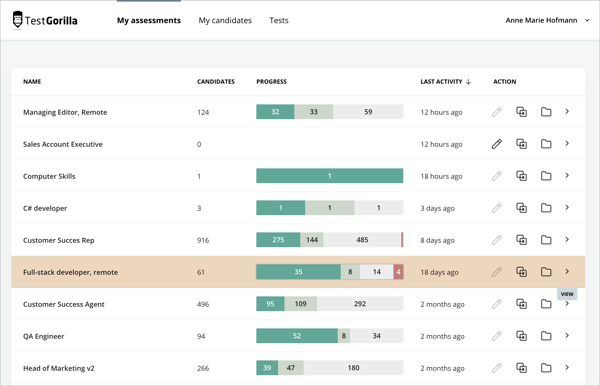 The first thing you'll see is a general overview of all the candidates that have completed this assessment. By default, candidates are ranked from high to low based on the average of their percentile scores as compared to all candidates in our database who have taken the tests within your assessment.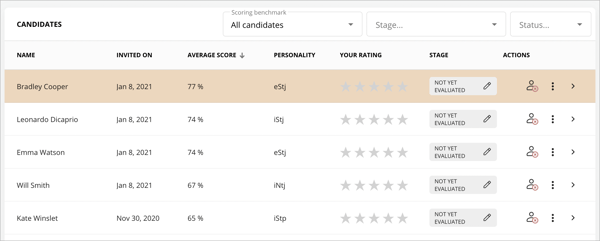 Note: Percentile scores show you how well candidates have scored compared to their peers. A percentile of score of 78% means they have performed better than 78% of other candidates who took that test.
If you'd like to see the candidates' actual test scores you can select the % correct option from the dropdown menu. This will show you the percentage of questions candidates got right on a test.
By clicking the arrow icons at the top of each list column, you can organize the candidates in different ways. You can organize based on name (alphabetical order), average score, or your ratings of custom question responses. You can also filter by Stage and/or Status or change the Scoring benchmark.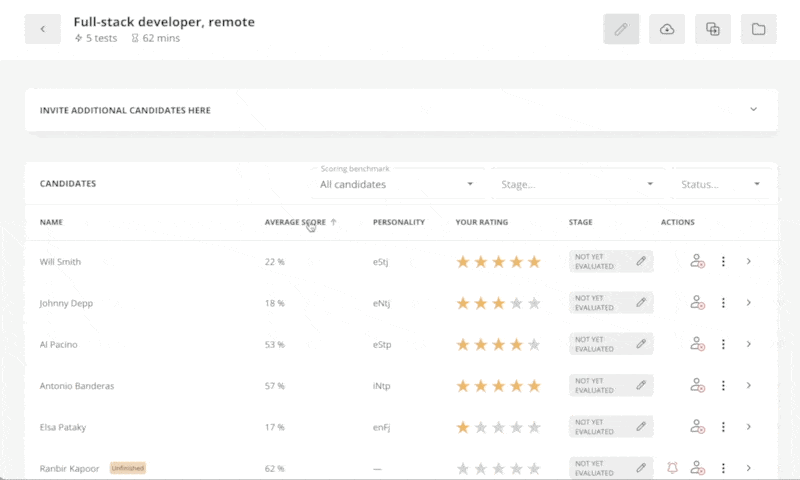 Tip: You can download the assessment results of all participants in a CSV, Excel, or PDF file, depending on your plan. This way you can easily share the results with your colleagues or save them locally for your reference.
Individual candidate results
You can click on the name of a candidate in the assessment list to get a detailed overview of his or her assessment results. In this individual overview, you can see the candidate's results for each test used in the assessment, as well as other key information about the candidate. Some types of tests will have additional information provided to give you more context for your analysis.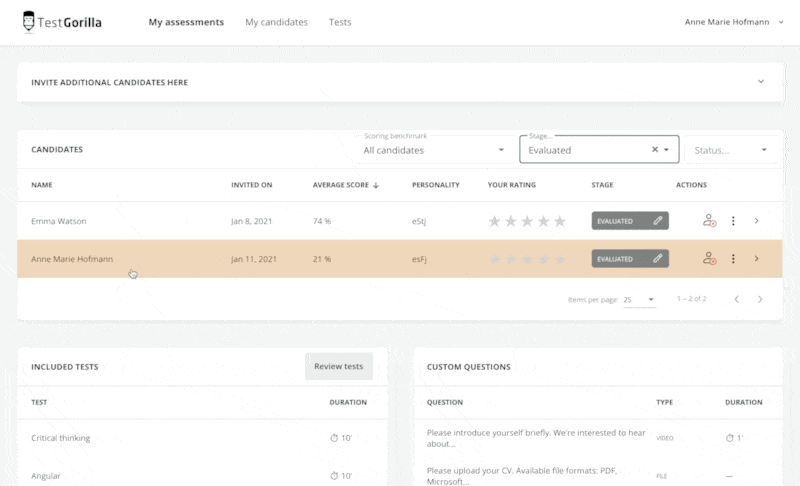 Tip: Looking for more detailed tips on how to analyze specific test types? Have a look at this article.
Review custom questions
If you added one or more custom questions to your assessment, you'll be able to view and rate a candidate's answers on his or her results page.
View the answer to a custom question
In the View answers column, you'll see buttons for each question. Depending on the question, this button will be either View, Download, Read, or Play. Clicking this button will cause you to see a pop-up showing the custom question and corresponding answer provided by the candidate.

Rate the candidate's answer
You can rate the response for each custom question by giving it a star rating as well as leaving comments.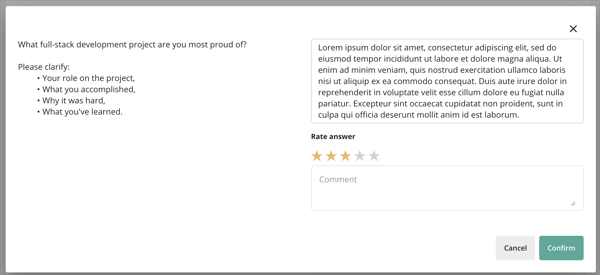 Add notes
Add notes for each candidate in the Notes box located next to the overall rating at the bottom of the page. These notes are visible by other users on your account but they are not shared with the candidate, so are only for internal reference.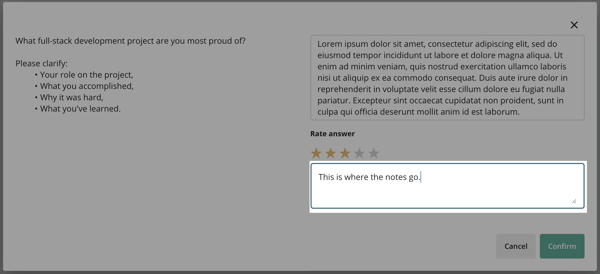 Overall rating
Give your personal overall rating of the candidate based on your impressions and interactions with them so far using the stars at the bottom of the page. This star rating shows up on the main candidate results page as well.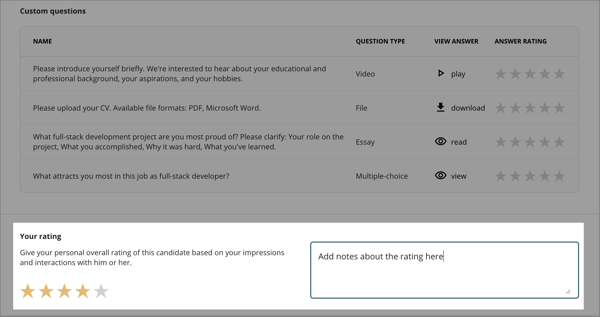 Repeat for other candidates
By clicking the arrow button in the upper left corner, you can go back to the overview of all candidates that have completed the assessment. Here you can select another candidate to see his or her individual assessment results.
Don't forget to mark each candidate as Evaluated as you go, to help you keep track.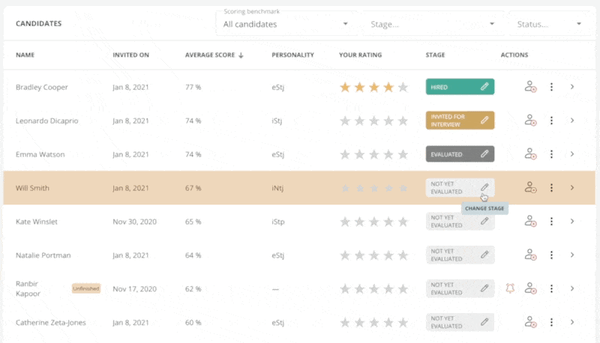 Tip: Want some more tips and tricks for analyzing your TestGorilla assessment results? Have a look at this article.
Support
If you still need help, you can always reach out to the support team. We're happy to answer your questions.