Ready to test candidates but don't know where to start? This step-by-step guide walks you through developing your first assessment.
| | |
| --- | --- |
| Applies to: | Free, Pay as you go, Scale, Business plans; Owner, Admin, Recruiter roles |
To start creating an assessment, login to your account. Your homepage is the My assessments page. Click the button in the top right corner labeled Create new assessment.

Step 1 - Name your assessment
First, name your assessment. This name is for your reference and is not visible to your candidates. We recommend choosing a practical name that allows you to easily organize and keep track of your assessment. For example: if you're hiring a UI/UX designer for your New York office in May of 2035, you might call the assessment "UI/UX designer NY office (2035-05)".
Secondly, select a job role. Based on this job role we can tailor the test library to your needs, highlighting the tests that are most relevant to your role.
After you've named the assessment, click Next step in the upper right corner to continue.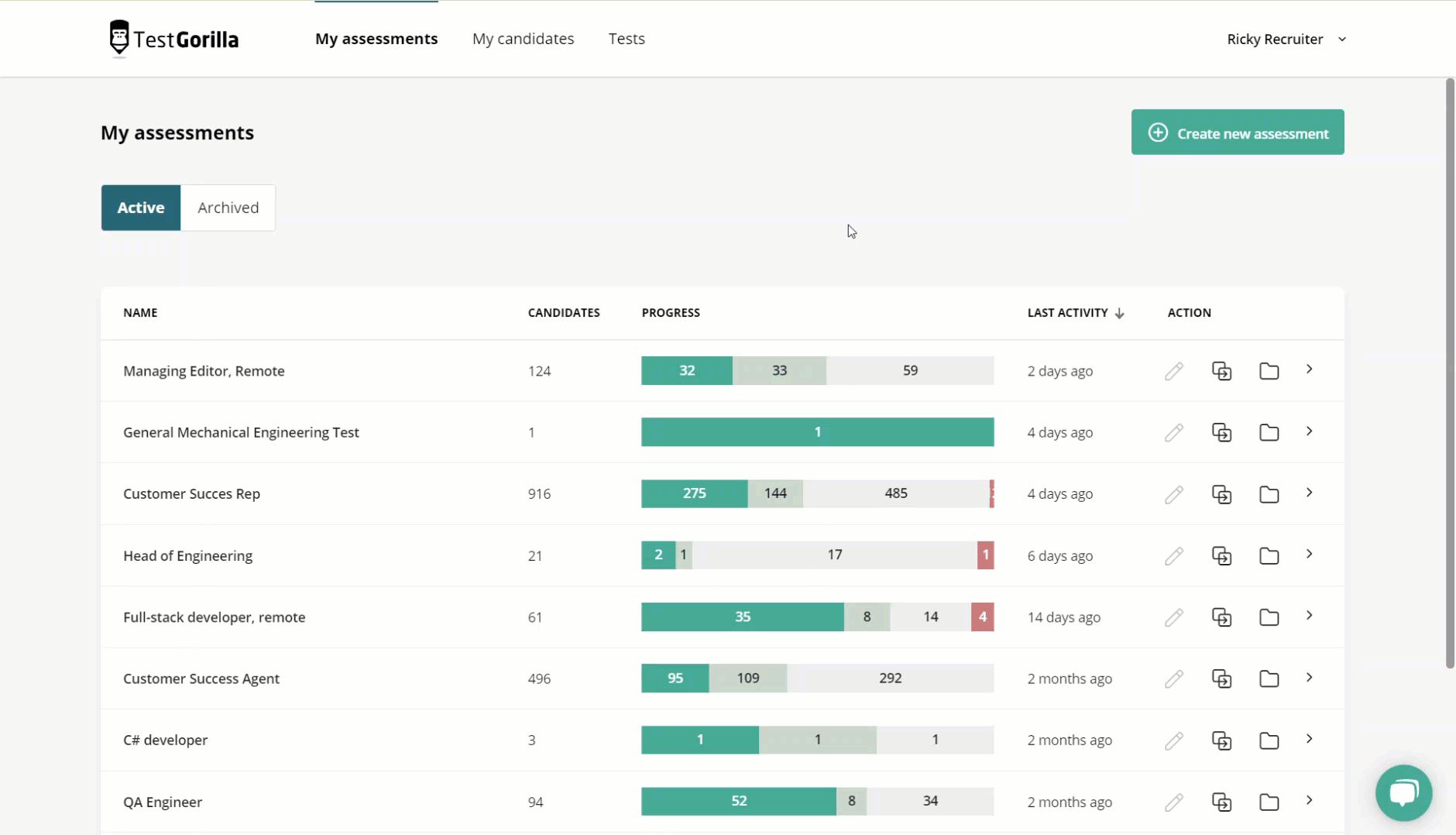 Tip: Can't find the job role you're looking for? Choose the Other option to continue. In this article, we explain why some job roles may be missing from the list or why the field might be disabled altogether.
Step 2 - Select tests
Now it's time to choose the first test for your assessment. On this page, you can scroll through the tests currently available in our test library.

You can view tests by category using the Test type box on the right side of your screen. If you're looking for a specific test, you can search for it by typing the name in the box labeled Search anything here located on the left side of your screen.

We automatically recommend tests to include based on the job role you selected in the previous step.

Clicking on Details allows you to get a fuller description of that test before you select it for your assessment. Once you open up the Details page, you can click on Preview sample questions to see examples of the types of questions included in the test.

Once you've found a test you'd like to use, you can add it to your assessment using the Add button on the test's page. Each assessment must consist of at least one test. You can select up to a total of 5 tests for an assessment.

When you're done selecting the tests you'd like to use, click Next step in the upper right corner to continue.


Tip: For best results, combine different types of tests in your assessment.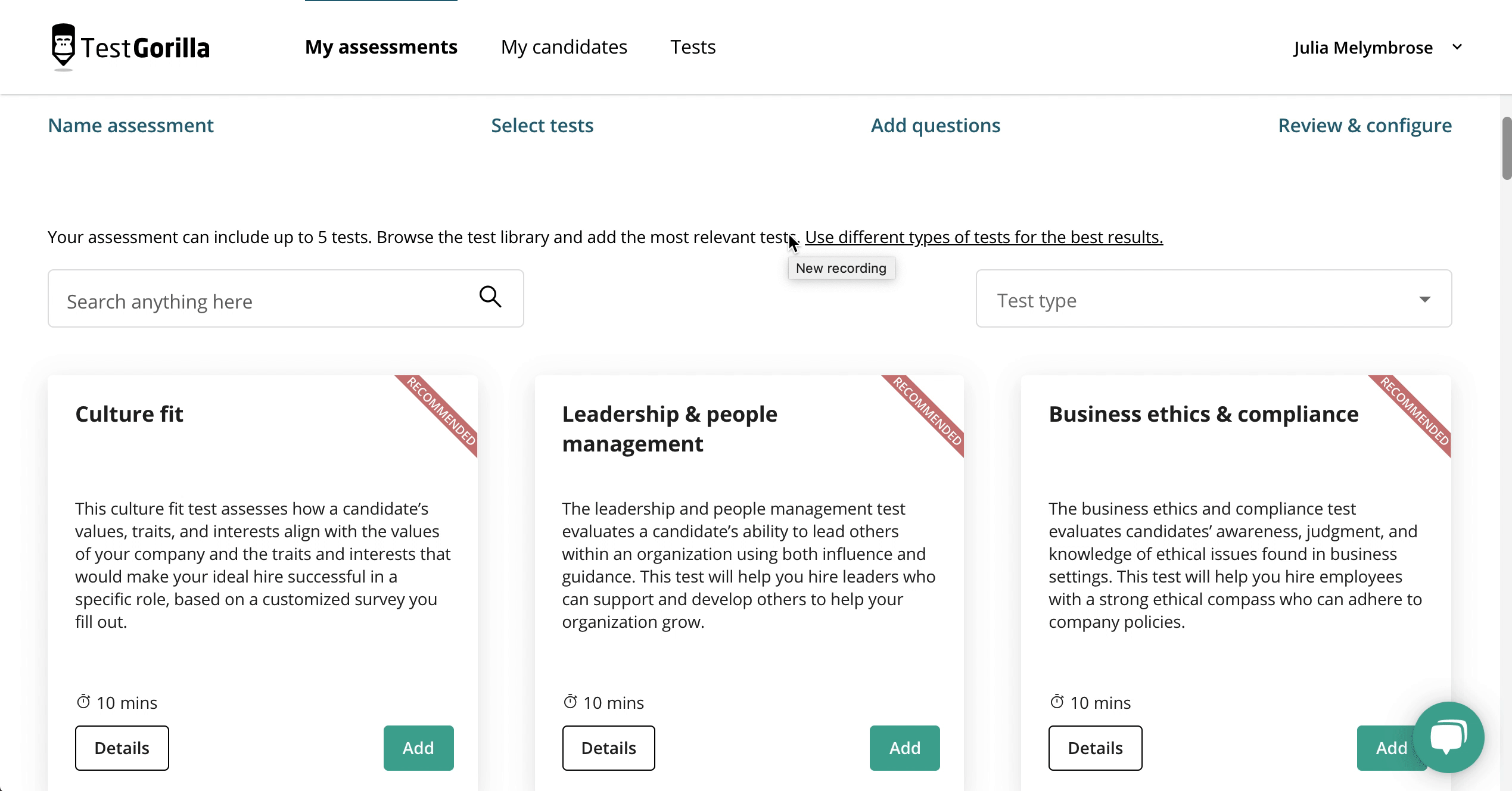 Note: You can leave the page at any time while creating your assessment and your progress will automatically be saved. You can return to your assessment by clicking on My assessments.
Step 3. Add questions
After you've selected the tests you'd like to use from our test library, you can add your own custom questions to an assessment.

Click the New question button to begin creating a custom question.
Tip: If you've previously created one or more custom questions in other assessments and would like to use them again, you can select them with the Copy custom questions button.
Your custom questions can be multiple choice or open-ended. You can also ask candidates to upload a file (for instance a resume or portfolio) or have the candidates record a video response. Video responses can be great for general introductions or to give you insight into how a candidate would answer a question in a live interview.

When you've finished adding custom questions, click "Next step" in the upper right corner to continue.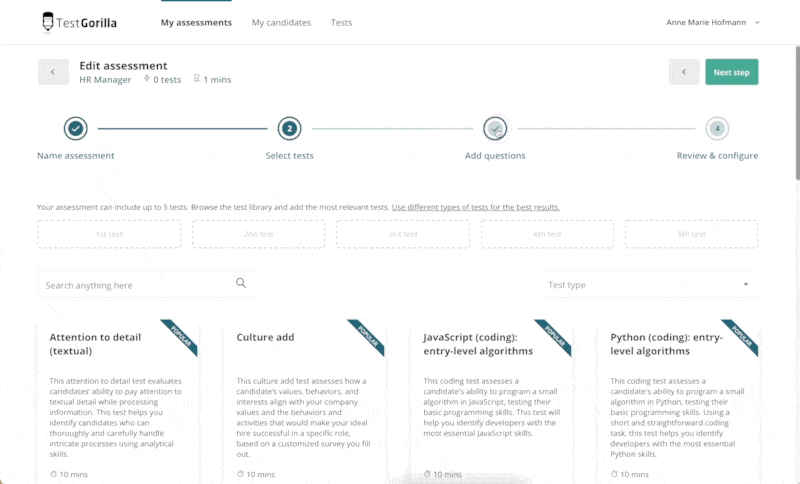 Tip: You can go back one step at any time while making your assessment by clicking the arrow in the upper left corner.
Step 4. Review assessment
There are several things you can do when reviewing your assessment. The screen will look a bit like the below image. Each number in the screenshot corresponds to an item in the list below.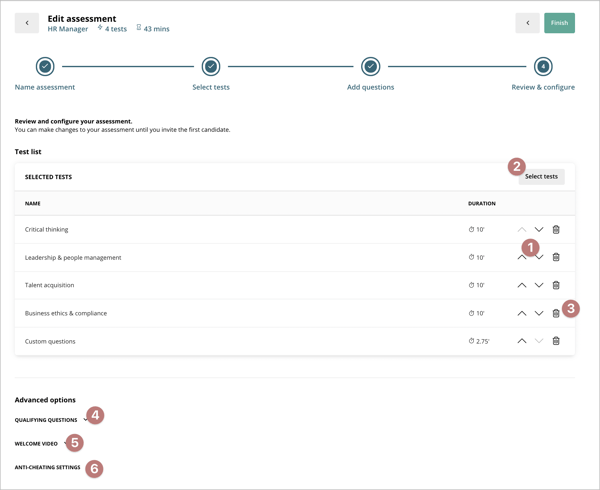 Reorder tests
You can change the order the tests will show to the candidates by clicking the up and down arrows.
Add more tests
If you have space to add more tests to your assessment, clicking the Select tests button will take you back to step 2 so you can add additional tests
Remove tests
If you've changed your mind about a test, you can remove it by clicking the

icon for that test.

Add qualifying questions




Qualifying questions are presented to the candidate ahead of the tests. The answers to these questions determine if the candidate satisfies the essential requirements of the job.

Add a welcome video


You can include a pre-recorded video to welcome your candidates to your assessment. By default, we'll display your video at the beginning of the assessment. If you prefer to show it at the end, tick the indicated check box.

Edit the anti-cheating settings


Here you can choose whether or not the system takes snapshots of your candidates every 30 seconds as they take their assessment
When you're finished with your assessment click the Finish button in the top right corner.

Step 5. Invite candidates to your assessment
Now it's time to invite your candidates to the assessment. You can do this in two ways: by email or by sharing a direct URL to the assessment.
By public link: You can copy the URL to share directly with candidates in your own way. For instance, you can send it in a personal email or post it on your website or job board.
By email: Fill in the name and email address of the respective candidate to send an automated email with an invitation to complete the assessment. You can do this with a single email address or multiple addresses at once.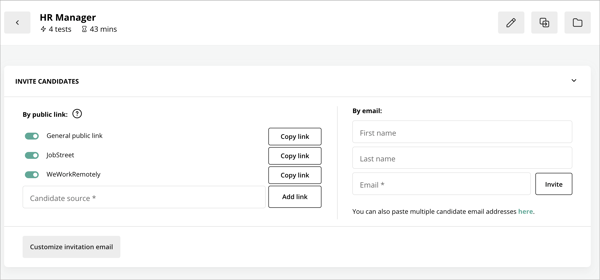 Tip: You can customize the invitation email generated by the TestGorilla platform. Read how here.
Step 6. Watch the results come in
Time for the most exciting part: watching the responses come in! Results from your candidates can be viewed by clicking on the name of your assessment on the home screen. The candidates will be shown on the next page. You can read more about that page here.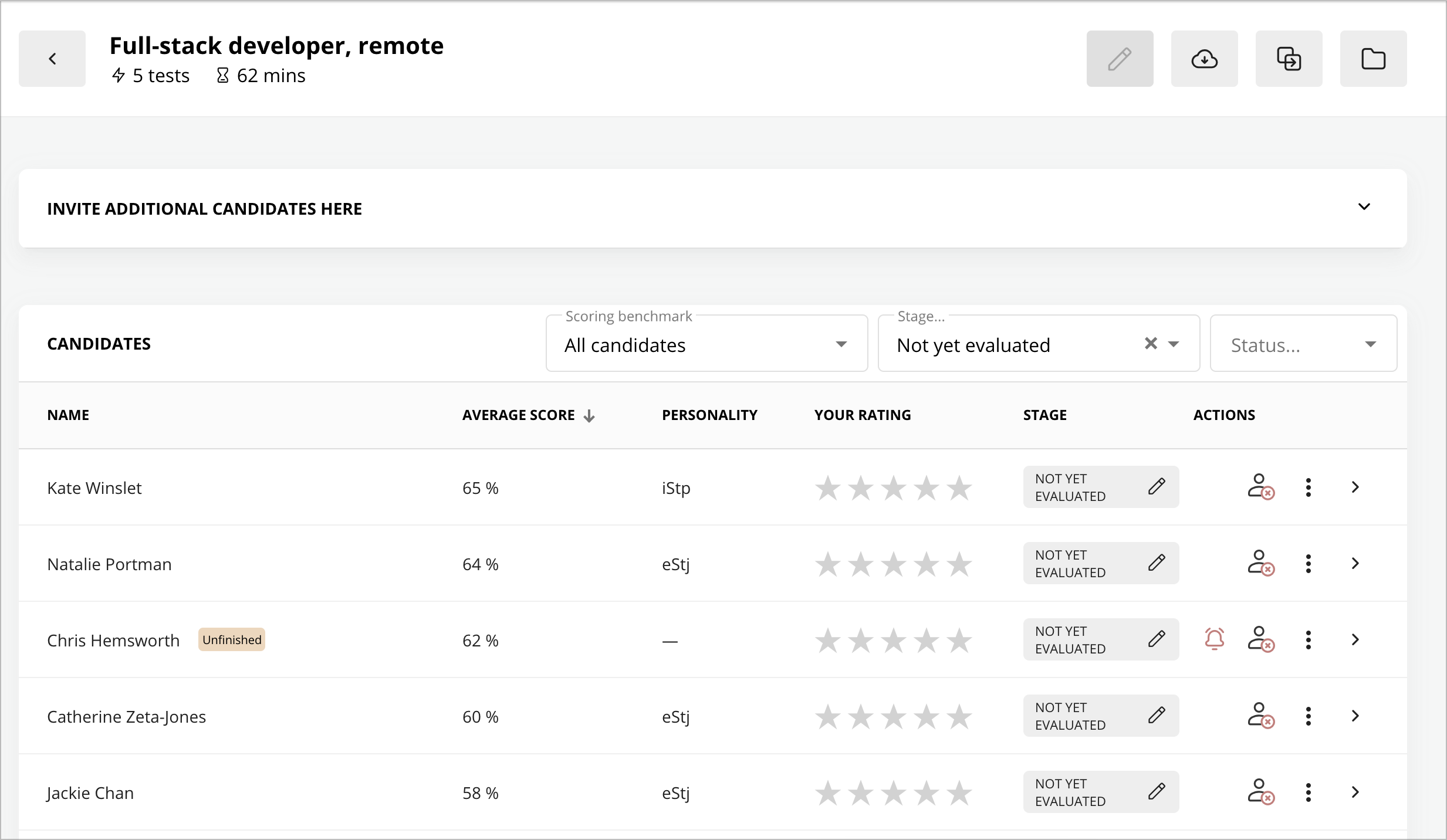 Support
If you still need help, you can always reach out to the support team. We're happy to answer your questions.