Easily analyze individual results on the candidate's results page.
| | |
| --- | --- |
| Applies to: | Free, Starter, Scale, Business, Enterprise plans; Owner, Admin, Recruiter, Hiring manager roles |
You can analyze the results of an assessment on two levels.
Grouped: when you go to an assessment on your My assessments page, you'll find an overview of the average results for each individual candidate. You can use this to quickly compare candidates to find the top performers at a glance.
Individual: clicking a candidate's name in this list allows you to see their detailed results page. Here you can review a candidate's results per test, see their answers to custom questions, and view the status of anti-cheating alerts.
Note: This article is about analyzing individual results. Want to compare all your candidates at once? Read about that here.
Analyzing individual candidate results
The individual candidate results page gives you a clear overview of the assessment results for a candidate. The results for each assessment are categorized in four key ways: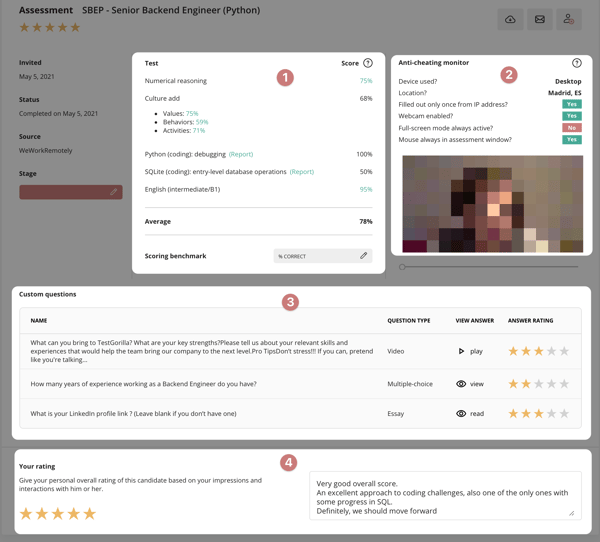 1. Summary of test results
Here you'll see the candidate's results for each test you've selected for the assessment.

We provide extra information for some tests to help you interpret the results. For instance, with the 16 types test, you can click on the personality code and see a pop-up with a description of the personality type. For a coding test, a code report will be included for more details about the test results.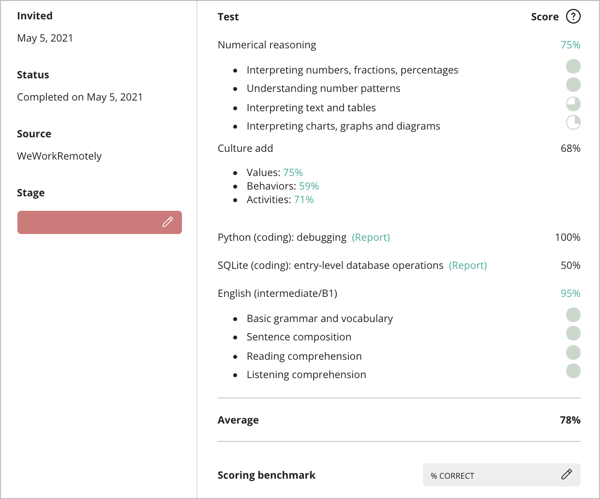 Note: To protect the integrity of our tests, we do not provide candidates' answers to questions at any point.
2. Anti-cheating alerts
Since your candidates will be completing your assessment online, in a non-controlled environment, we offer you the following alerts.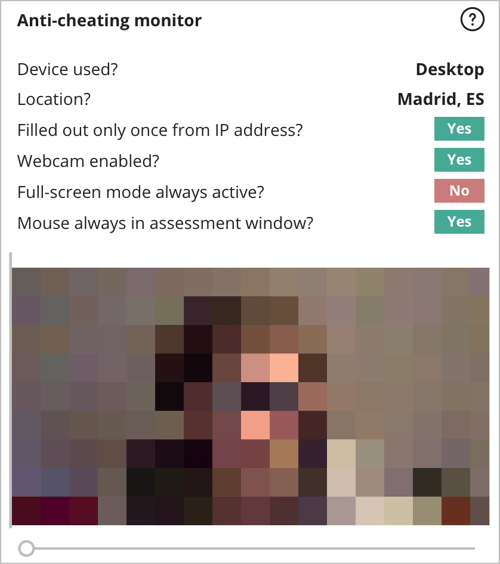 Filled out only once from IP address: Using the IP address, we check if candidates fill out the assessment only once (with a public link to the assessment, candidates could use multiple email addresses to take repeated attempts at the assessment).
Webcam enabled: we take a snapshot of the candidate every 30 seconds using their camera or webcam. We do this to verify that your candidate is the only one taking the assessment. You can review these pictures with the slider on the results page.
Full-screen mode always active: this ensures a candidate does not exit the test to find answers or help online.
Mouse always in assessment window: this ensures a candidate does not use a second screen to find answers or help.
Read this article if you want to learn more about anti-cheating mechanisms.
Note: We ask the permission of candidates to take these pictures before they start the assessment. Read this article to learn how we deal with this in terms of privacy and GDPR.
3. Individual answers to custom questions
When you scroll down on a candidate's results page, you'll see the individual answers the candidate gave for your custom questions in the assessment.

Here, you can get a first impression of a candidate by viewing their responses. Clicking on the View answer icon for a multiple-choice, Read for an open-ended question, or Play for a video question allows you to see the full answer for that question. You can also download any files you've requested from your candidate.


Once you've reviewed and analyzed an answer, you can rate it. This individual rating is useful as a reference for you and your colleagues in the overall recruitment process.
Note: Looking for a general explanation of how to analyze the overall results of your assessment? This guide can help get you started.
4. Your overall rating
On the bottom of the candidate results page, you can summarize your evaluation of the candidate by rating the candidate with a star-rating and by providing your private notes. This is your personal rating of the candidate based on the test results, the anti-cheating alerts, and the answers to custom questions.



The star-rating also appears on the candidate overview page of the assessment. After evaluating multiple candidates and filling out these ratings, you can sort your candidates on their star-rating and decide which candidates you're going to interview. For example, you may decide to interview all candidates with 4 or 5 stars.

You can also record your impressions of a candidate in the Notes box, located to the right of a candidate's custom questions overall rating. These notes are viewable only to you, not to the candidate.
Support
If you still need help, you can always reach out to the support team. We're happy to answer your questions.