You can create your own tests and add them to your assessments right from your TestGorilla dashboard.
Using the TestGorilla platform, you can create your own automatically-scored tests to evaluate your candidates. Your tests can be added to your assessments in combination with the tests we offer. Any tests you create will only be available for use in your company account, and will not appear in our public test library.
This article walks you through the steps for creating your own test on the platform, provides resources for creating the contents of your test, and explains how to use your test in an assessment.
How to create your own test
From your TestGorilla dashboard, navigate to the Tests tab in the top bar menu and then click on My company tests in the top right-hand corner.

Click on Create new test in the top right-hand corner

The first step is to fill in your test's landing page. This will let you and others in your company know what the test is about and which roles to use it for. Landing pages can only be viewed by members of your TestGorilla account during assessment creation. These pages are never shown to candidates.
Below, you can view an example of a landing page from a test we've created.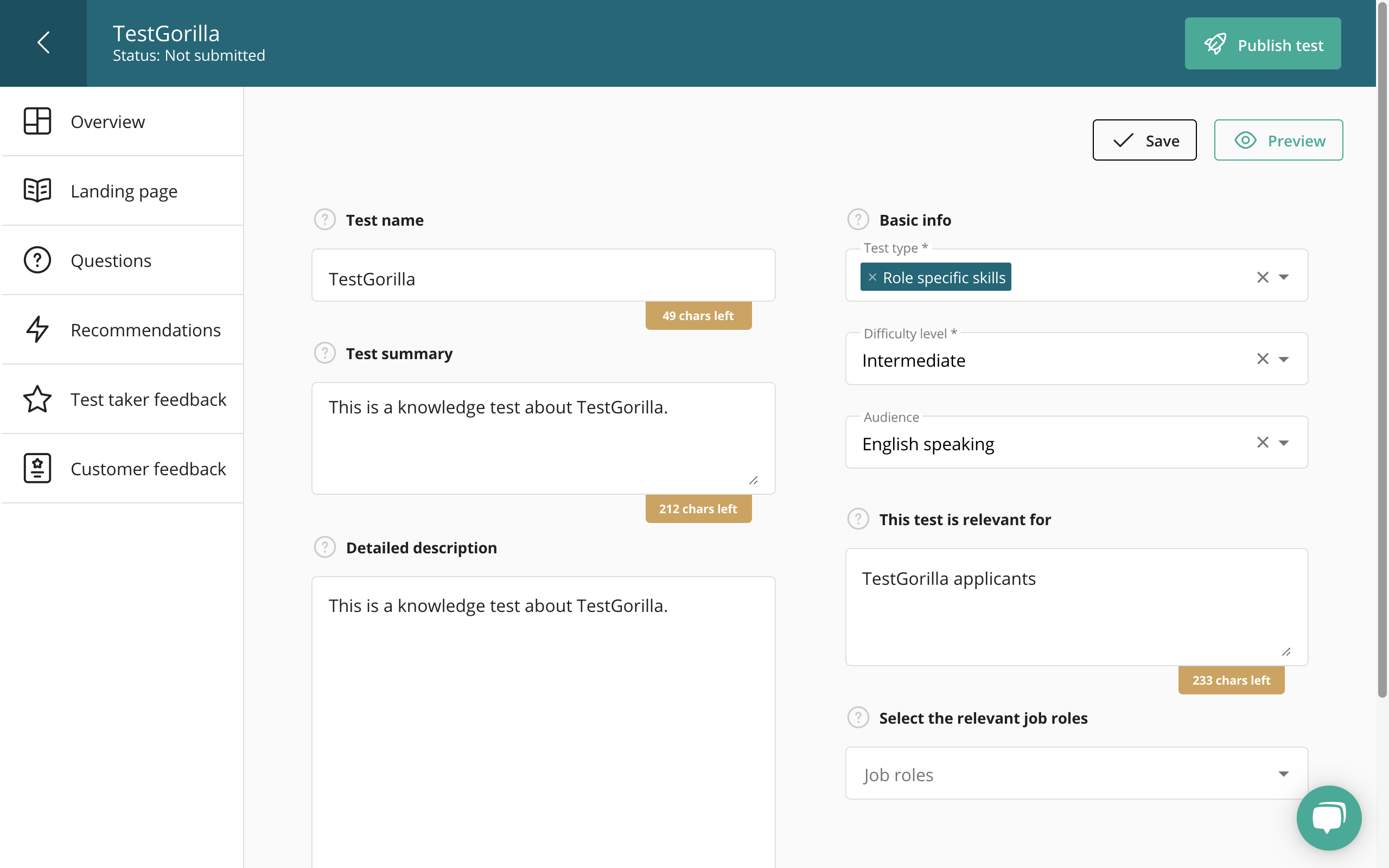 Once you've filled in your landing page, the Questions tab will become available. Here, you can start creating your questions.
Defining key aspects of your test
Once you navigate to the Questions tab, you'll see a message asking you to define the skill areas of your test. For simple tests (like the TestGorilla company test in the screenshot above), one skill area is enough. If you're testing a more complex topic, you can add more skill areas.
We'll explain more about how you can define skill areas and develop good questions for your test in the next section.
For now, click on Define skill areas to visit the main page of your test.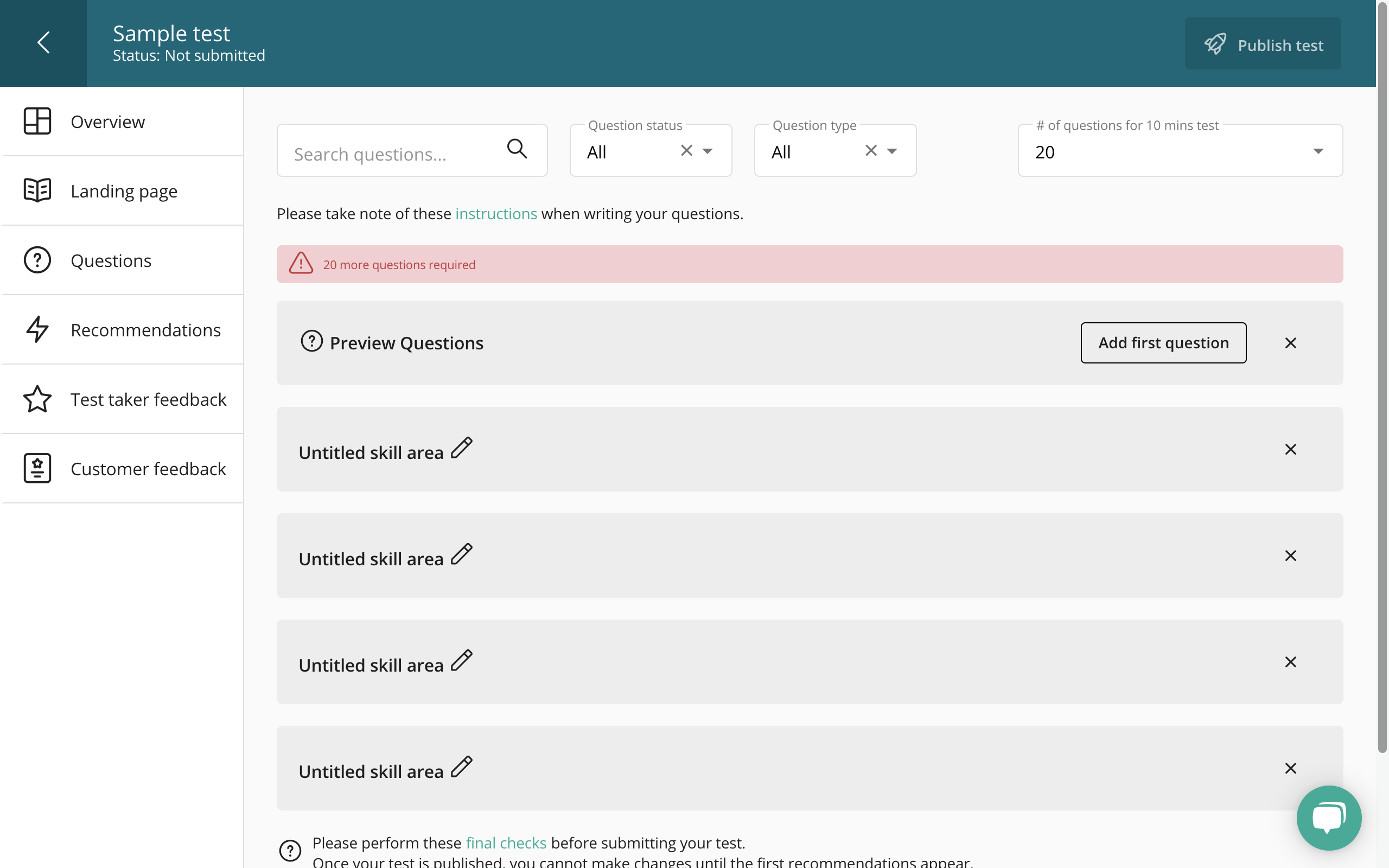 Before you define your skill areas, you should decide how many questions your test will have. In the screenshot above, you can see that the default number of questions for a 10-minute test is 15. You can change that number to 12 or 20 by clicking on the number 15 in the top right-hand corner and using the drop-down menu.
Tip: We recommend using 15 questions in a test, or 12 if your questions involve quite some reading and/or thinking. Only use 20 questions if your questions are very fast to read and answer.
Once you've set the number of questions, you can add skill areas and click on each skill area to define it. You can also remove any unneeded skill areas by clicking on the x at the end of each row.
When you define a skill area, you'll see a button appear labeled "Add first question." Click this to start creating the questions for your test. Once you've added all of your questions, you can begin adding your finished test to your assessments.
Tip. You can ignore the Preview Questions area in this section. This is only used to show sample questions for the tests in our test library. This will not apply to any tests you create.
Creating the contents of your test
To ensure your test covers its topic comprehensively, we recommend creating the contents of your test by following these simple steps:
Break down your test into skill areas: Every test is meant to test candidates for something specific. It's important to take time to clarify what exactly you're trying to measure. This will form the foundation of your test.
Break down each skill area into categories or specific skills: Each skill area tests candidates in a specific section of the overall scope of the test. It's important to define the specific skills or categories that each skill area covers. This will give you a framework for writing questions in the next step.
Write questions for each skill: Your test's questions should only relate to the skills that you've defined in the previous step. Each question should address only one skill or skill area. Another expert in your field should be able to read your questions and immediately understand which skill areas they relate to.
Types of questions you can use for your test
The TestGorilla platform has four question types you can use in your test:
Multiple-choice questions: In a multiple-choice question, a test-taker has to choose one right answer from a list of choices (often four). If designed well, multiple-choice questions have very good psychometric properties, meaning they can clearly distinguish good candidates from poor ones. This makes them the best question type for your tests in general.
Multiple-response questions: Multiple-response questions have more than one correct answer and candidates must select all correct options for full points. These questions offer a creative approach for testing certain skills. However, it can be more challenging for you to come up with the right balance of correct answers and wrong ones (distractor options) in your choice list. These questions are often less reliable than standard multiple-choice questions and should be used sparingly, though we do encourage you to include a few.
True or false questions: True/false questions are a special case of multiple-choice questions. They allow for a faster response from the test-taker. You can use this type if you feel that some of your other questions take longer and you'd like to reduce the average response time of your questions. As test-takers have a 50% chance of guessing the right answer, we advise you to use this question type sparingly.
Short text question: This question type should only be used for short answers expressed in specific words (and only those words). This question type works well for testing vocabulary and spelling in a language test, checking terminology (such as the name of a function or method in coding), and for questions that have only one specific answer.
How to add your own test to an assessment
Once you create your test, you can use it in any of your assessments along with tests from our test library (and any custom questions you may want to include).
In the second step of creating an assessment, on the test selection screen, click on the Test type field towards the top right-hand corner of the screen. From the drop-down menu, choose My company tests. Next, click Add on the test you wish to add to your assessment. You'll see the test appear in the test blocks at the top of the screen.