Copy the public link provided and share it with any candidates you'd like to invite.
| | |
| --- | --- |
| Applies to: | Pay as you go, Scale, Business, Enterprise plans; Owner, Admin, Recruiter roles |
You can invite candidates right after you've created an assessment. For assessments that you've already created, you can invite candidates by accessing the assessment from your My assessments page.

You can copy the public link and share it with candidates in your own way. For instance, you can include the link in a job post or in a social media post. After clicking the button Copy link, you can paste the link in your medium of choice.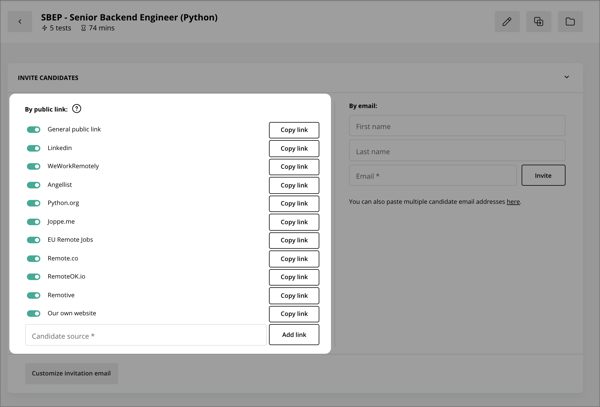 Tip: Public links are especially helpful if you want to provide access to your assessment to candidates that you haven't identified yet. By clicking the link, those candidates can provide their name and email address, after which they get the invitation email for the assessment. Consider using the public link in combination with qualifying questions to help prevent unqualified job seekers from taking the assessment.
If you are on a Scale plan or above, you can create multiple public links if you have multiple sources for your candidates. For example, you may use one public link for the job post on LinkedIn, a second one for your job post on Indeed, and a third one for a newsletter that contains information about the job you're hiring for.


On the candidate result page, you can see the source of your candidate, as shown in the below image. Additionally, the Excel and CSV downloads have a column specifying the public link that each candidate used.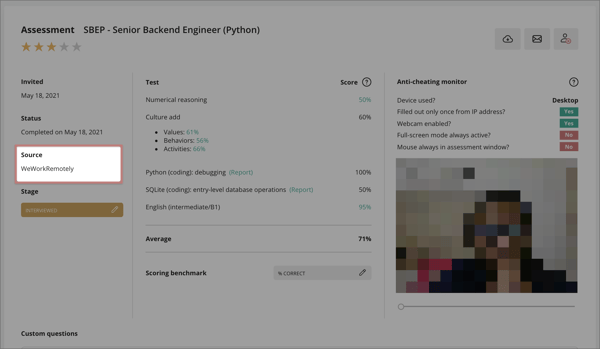 Support
If you still need help, you can always reach out to the support team. We're happy to answer your questions.