TestGorilla automatically sends a reminder to candidates who have not finished their assessment after 48 hours. But you can also send them a reminder yourself.
| | |
| --- | --- |
| Applies to: | All plans; Owner, Admin, Recruiter roles |
You can see whether a candidate has completed an assessment by checking the overview for that assessment. First, go to the My assessments page and click on the relevant assessment. You'll then see an overview of every candidate you've invited to that assessment.

The Status column indicates the candidates' progress. Using this, you can identify candidates who have yet to complete their assessment.
In the image below, Job Candidate's Status is Assessment completed. This indicates they have completed the assessment. Second Candidate's Status is Assessment started. This indicates that they have begun the assessment but have not yet finished it.
Candidates that did not start or finish their assessment have an alarm bell icon

in the Actions column on the right-hand side of the table:

You can press the alarm bell icon to remind your candidate to complete their assessment. An email will be sent to them as a reminder, which includes a personal link to the assessment: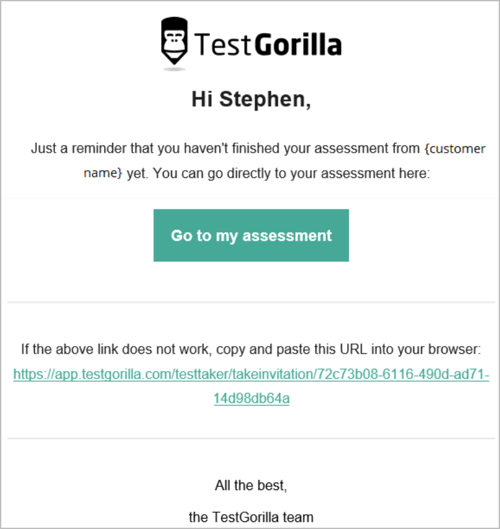 TestGorilla sends an automatic reminder to candidates who didn't start their assessment 48 hours after they have been invited. TestGorilla also sends an automatic reminder to candidates who didn't finish their assessment 48 hours after their last activity.

However, only one of the two reminders will be sent to each candidate. So if a candidate receives a reminder for not starting, they will not receive an automatic reminder if they subsequently start but do not finish their assessment.

If you send a manual reminder, TestGorilla will not send an automated reminder email.


Caution: If the alarm bell is black

the candidate's last activity or the last reminder email was less than 24 hours ago. So you might want to wait a bit longer before sending a reminder email, as the candidate might still be working on the assessment.
If you want to send your candidate a reminder email from your own inbox, you can include their personal invitation link to the assessment by using the chain icon

This copies the link in your computer's clipboard, which you can then paste into your own email.
Support
If you still need help, you can always reach out to the support team. We're happy to answer your questions.