You can use a custom question to ask candidates to upload a file.
| | |
| --- | --- |
| Applies to: | Pay as you go, Scale, Business plans; Owner, Admin, Recruiter roles |
File upload questions are a great way to have candidates provide a CV, portfolio, or other documents that might be useful in your hiring process. Candidates can upload a range of files including PDFs, Word documents, and Excel/CSV files.

The first step is to add a File upload custom question to your assessment. You can do this in a new assessment or by editing an existing one.


Note: You can only make changes to assessments that candidates haven't yet been invited to take. This article will show you how you can make changes to assessments you've already created, while this article explains more about why you can't make edits to an assessment that candidates have been invited to.
In the question editor, type the question you want to ask and choose a time limit to answer the question. You can choose from the following time limits:
No limit
10 minutes
20 minutes
40 minutes
50 minutes
1 hour
2 hours

4 hours
12 hours
1 day
2 days
3 days
7 days
Tip: The various time limits allow you to get creative with this process! You can ask people to upload something as simple as a CV or a screen shot of their internet speed.

Or you can give someone a "take home assignment" that allows up to a week to upload the final project. In the case of the latter, it's best to include this question last, so that you can review the rest of the assessment in the meantime.
When you're ready, click Save and you'll automatically go back to the custom questions screen.

The gif below shows the process from start to finish: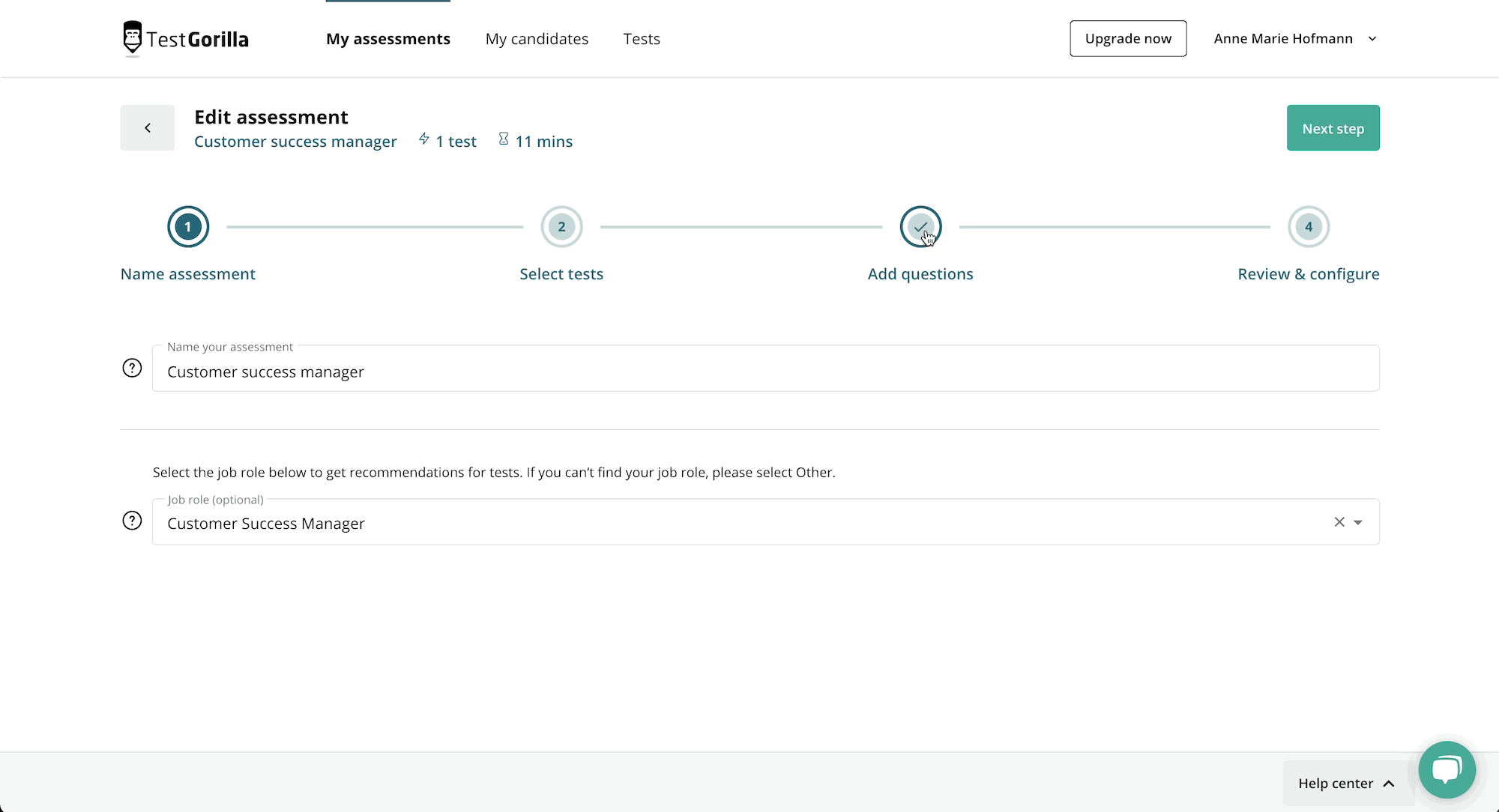 From here, you can rearrange your custom questions to appear in a different order, add additional custom questions, or continue to the next step in the assessment creation process.


Support
If you still need help, you can always reach out to the support team. We're happy to answer your questions.