You can use a custom question to ask candidates to upload a file. This option is available in the third step of the assessment creation process.
To start crafting a new custom question, go to step 3 in the assessment creation timeline. You can do this with a new assessment or by editing an existing one.
See this article to learn how you can make changes to assessments you've already created.
Next, follow this step-by-step guide (also see example in the video below):
Click "New question."
Choose "File upload" on the next screen.
In the question editor, type the question you want to ask. This type of question does not have a time limit, so the candidate can take his or her time to find the right file.
When you're ready, click "Save" and you'll automatically go back to the custom questions screen.
If you have more than 1 custom question at this point, you can arrange them in the order you'd like your candidates to answer them.
You can create additional custom questions or continue with the next step in the assessment creation process.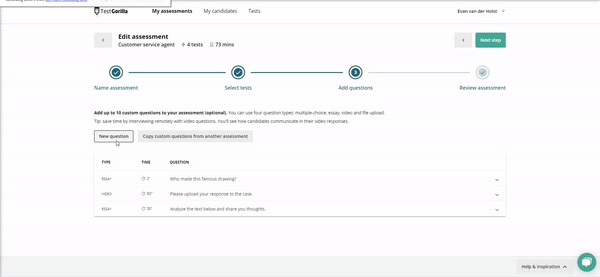 Want to learn how to make other types of custom questions? Have a look at this article.