Did you use a culture add survey in a previous assessment, and now you want to use the same answers for a new assessment? This article will tell you how.
| | |
| --- | --- |
| Applies to: | Pay-as-you-go, Scale, Business, Enterprise plans; Owner, Admin, Recruiter roles |

The first time you include the culture add survey in one of your assessments, you'll need to complete the culture survey to establish which values, behaviors, and activities are important for your company. You can read more about how to fill out the survey here.

After you've filled out the survey once, you can then use your answers in future assessments and edit them as needed. This allows you to quickly alter the survey to match the specifications for each job role, or update it as your company's culture grows and changes. Think of it as presetting your answers!

Note: Culture add survey is a Premium test, not available to Free plan users. To see what tests Free plan users have access to, please see this article.
Step 1. Add the test to a new assessment
Add the Culture add test to your new assessment during Step 2 (Select tests) of the assessment creation process. Finish creating your assessment as usual to view your new assessment dashboard.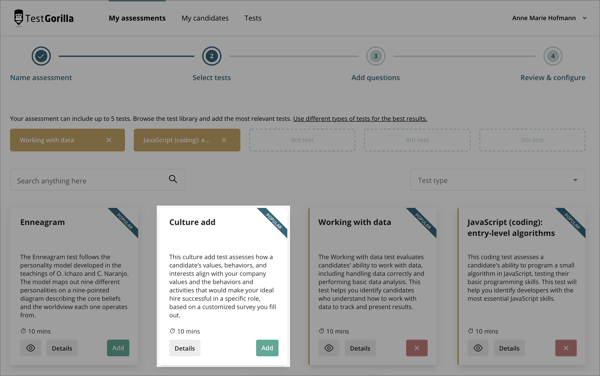 Step 2. Copy your answers from a previous assessment
In your new assessment dashboard, you'll see a message that your culture survey is pending. Click on it to open up the box with the culture survey options. Then, click on Copy/edit answers from a previous assessment.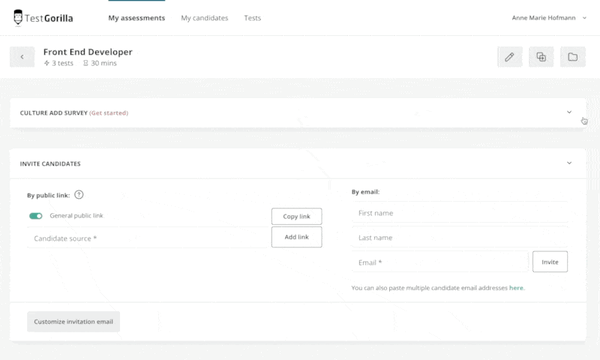 In the new tab that opens, click on the Assessment box. You'll see a drop-down menu of all your previous assessments that have used a culture add survey. Select the assessment you'd like to use as your starting point.
To reuse previous answers, choose Use all previous answers. The answers will be copied and your survey will be finalized automatically.
To use previous answers as a starting point, but make some changes, choose Change answers. The answers from the previous assessment will be copied in, but you'll have the option to change them. When you're done, just finalize the survey.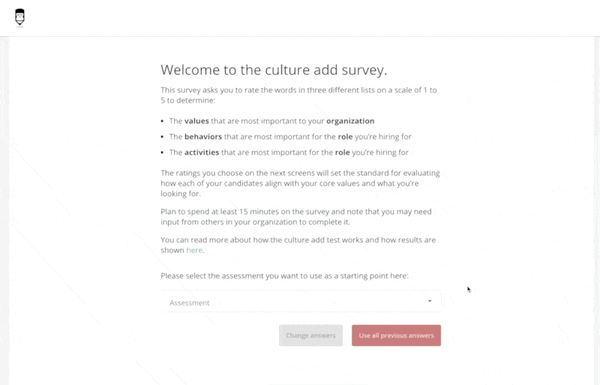 Tip: Are you simply curious what answers were used in a survey? The same above steps will allow you to review answers from a previous survey as well; this way, you can make note of them to keep for your own records.
Support
If you still need help, you can always reach out to the support team. We're happy to answer your questions.