Visit our test library to browse available tests. You can add tests to a new or an existing assessment.
| | |
| --- | --- |
| Applies to: | Free, Pay-as-you-go, Scale, Business plans; Owner, Admin, Recruiter roles |
Adding tests is part of the assessment creation process. You'll encounter the Select tests step as step two of the assessment creation process. See this guide for details on how to create an assessment.
Note: To add tests to an existing assessment, on the My assessments page, click the Edit button next to the assessment you'd like to edit and proceed to Step 2 Select Tests in the assessment creation timeline. This article teaches how to edit an assessment.
In the Select tests section of the creation process, search the library for tests you might want to use. You can search a term in the bar on the left or you can use the Test type drop down on the right to browse the library by types of test (such as coding tests, language, or job skills).
Tip: Clicking on a test opens up a window with details about the test, while clicking the Preview button takes you to preview questions for the test.
Once you've found a test that you'd like to use, you can add it to your assessment using the Add button on that test's card. Each assessment must consist of at least one test. You can select up to a total of 5 tests for an assessment.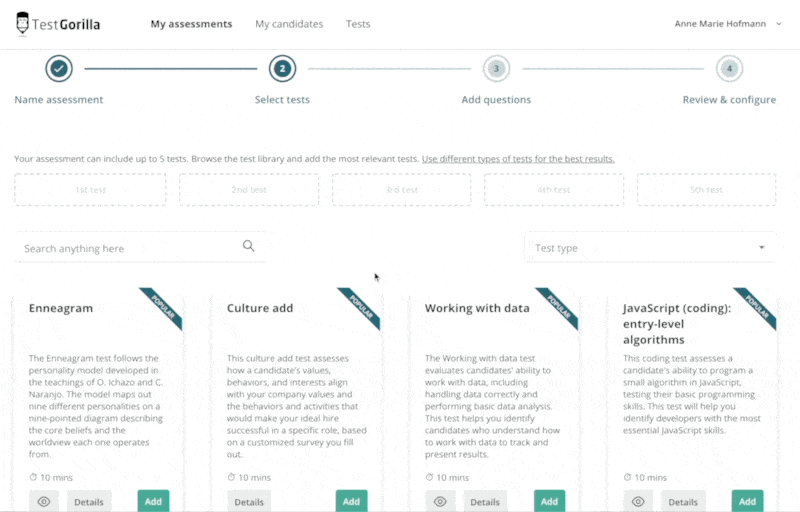 If you just want to have a look at the tests in the TestGorilla library, you can go there by clicking on the Tests button at the top of your screen. Here, you can scroll through all the tests we have available. You can start creating an assessment at any time by clicking the Create new assessment button in the upper right corner of your screen.
Note: You can only edit assessments that have no outstanding invitations yet. Once you've invited your first candidate to an assessment, you can no longer edit it. Click here to find out why.
Support
If you still need help, you can always reach out to the support team. We're happy to answer your questions.