You can easily share results with each of your candidates by using the "send results" button.
To share results with a candidate, first go to that candidate's results page and click the envelope icon in the upper right-hand area of the screen.

A message will pop up asking you to confirm. You can click Confirm to have an email with the results sent to the candidate. You can also click on the "customize the results email" link (shown in the screenshot below) to customize the results email. These customizations will apply to any of the results emails sent to candidates in the assessment.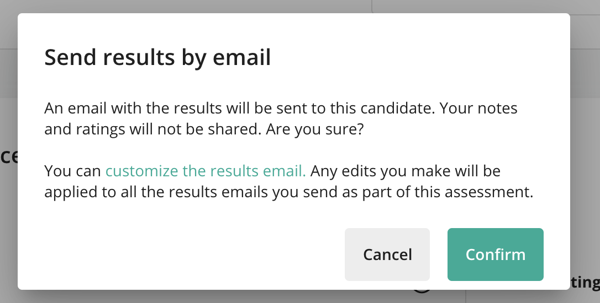 Note: your candidate will only receive their test results in the email. They will not have access to any of your personal notes or ratings, nor the information in the anti-cheating monitor section.
You can also share results with a candidate from the main dashboard of a particular assessment. Find the candidate's name whose results you want to share and click the three dots at the end of their results row. From the dropdown menu, choose Send results by email.

This will bring up the same confirmation prompt as before.