Go to Plan & billing on your account page to sign up for a paid plan.
| | |
| --- | --- |
| Applies to: | Free plan; Owner role |
To sign up for a paid plan, first login to your TestGorilla account. From there, you have three options:
Tip: You will need to have a Free account to be able to purchase our product. This is to allow you the opportunity to try it out before committing to a plan. Please see this article to learn how to create an account if you don't already have one
Option 1: Use the Upgrade now button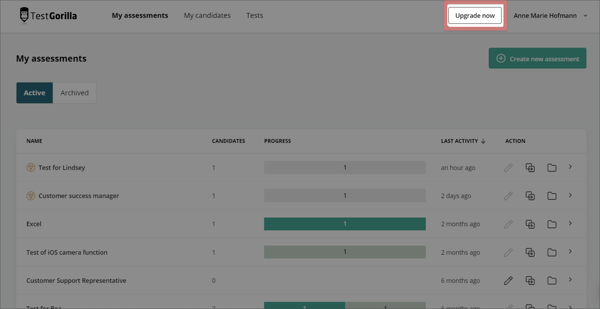 In the top-right corner of the window next to your name, there is a button labeled Upgrade now. Click this to be re-directed to the upgrade page.


Option 2: Go to the Plan & billing tab




Click on your name, and select Plan & billing. In the section labeled Power up TestGorilla there is a green button labeled See plans. Click on this to go to the upgrade page.


Note: Billing-related features, such as upgrading, are only available to the account owner.
Option 3: Select a Premium feature


All Premium features are clearly labeled with a diamond to avoid any confusion. Upon selecting a premium feature, you will receive a popup message letting you know that the assessment will only be available to account users if you proceed to use that feature. This allows you to trial premium features among your team before committing to an upgraded plan.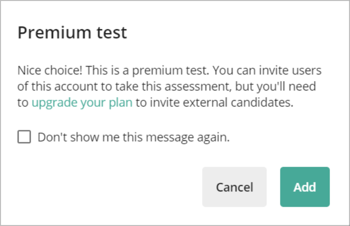 Assessments using any premium feature or test will require a plan upgrade before you can invite an external candidate.

If you attempt to invite an external candidate to an assessment using a premium test or feature, you will receive another popup advising that you will need to upgrade to invite that candidate.





Click the upgrade link inside of the pop up to be taken to the upgrade page, and follow the on screen instructions.
Support
If you still need help, you can always reach out to the support team. We're happy to answer your questions.