Yes! Most of our premium tests and features can be trialed before purchasing!
| | |
| --- | --- |
| Applies to: | Free, Pay as you go, Scale plans; Owner, Admin, Recruiter roles |
You may have noticed that not all of our features are available on all plans. Features such as premium tests, qualifying questions, welcome videos, and various custom question formats are only available on certain paid plans. But you can try them before you upgrade!
The premium features that can be trialed are:
Tip: For clarity, we class you and your registered account users as internal candidates. All others are referred to as external candidates.
Premium features can be easily identified by a diamond icon

next to them. To test these features, you can simply add them to an assessment. Upon doing so, you will receive a popup warning like the examples you see below: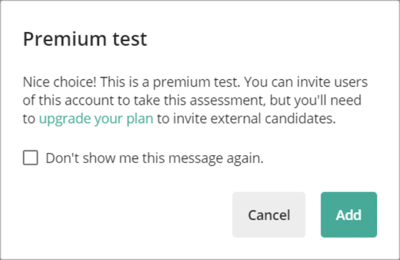 Example: You receive this message when adding a premium test to an assessment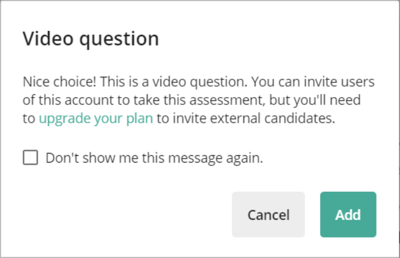 Example: This is message you see when adding a custom video question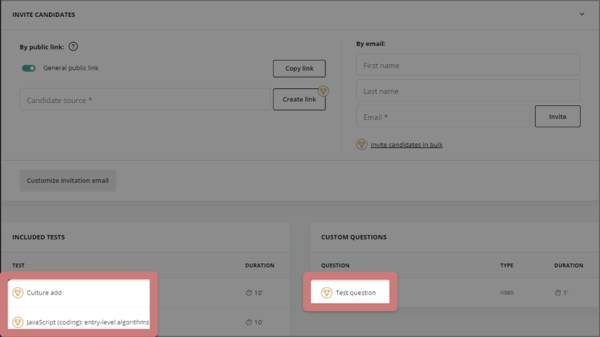 Example: A created assessment with premium features included
Clicking the Add button on the popup will continue to add the feature to your assessment. You can then proceed to invite account users (internal candidates) using the email invitation function. Your users will be able to take the assessment and see how these features work in action, exactly as your external candidates will experience them!
Inviting external candidates
Trying to invite external candidates will produce the following message: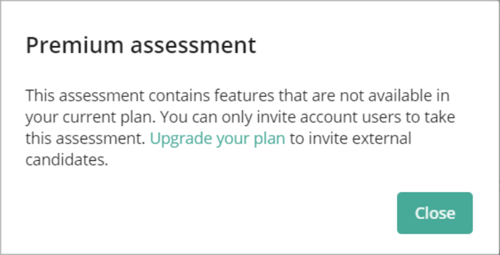 Tip: Inviting internal users to try an assessment does not use any of your candidate nor assessment credits, whether it includes a premium feature or not!
Support
If you still need help, you can always reach out to the support team. We're happy to answer your questions.