You can be notified when candidates complete assessments by enabling notifications in your account. This is controlled at the user level.
Maybe you're waiting on a small handful of candidates to complete an assessment. Or perhaps you're the type of person who sets things up and forgets about them unless reminded: out of sight out of mind, right? We created email notifications for you! Notifications are available to all users on all plans.
Approx. reading time: less than 2 minutes
In this article
Note: Notifications are off by default. If you want them on, you'll need to follow this guide.
How notifications work
Email notifications let you know that a candidate has completed one of your assessments. Each user has the option to enable or disable this setting. Any changes you make will only affect your own account. This means whether you receive notifications is entirely up to you.
With notifications enabled, you will receive an email telling you which candidate completed which assessment. The email also includes a direct link to login into the TestGorilla platform to view the results.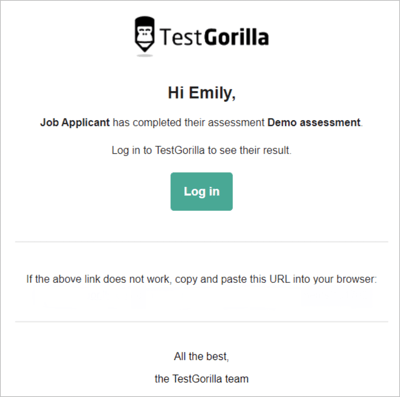 Note: Users will only receive notifications for assessments they have access to. You can learn more about managing user access in this article.
How to enable or disable notifications

Click on your name in the top right corner from any screen while logged in

Select Notifications from the dropdown that appears.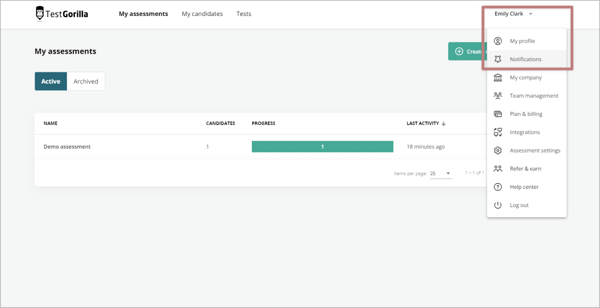 Select the checkbox to enable notifications or uncheck it to disable them.

Click on Save changes to finish. Changes you make here will take immediate effect!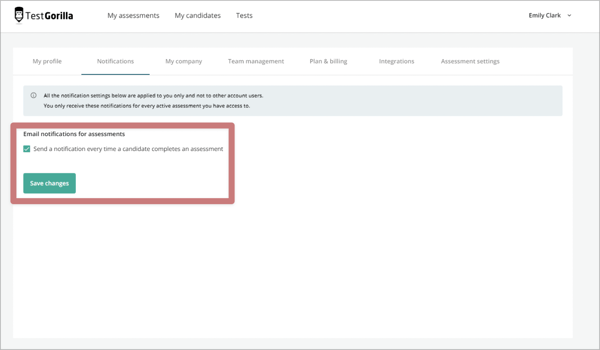 Common Questions
If I turn on notifications for myself, will everyone else in my account start receiving them?
Nope! Notifications are a personal setting on the individual user level. Turning them on or off will not affect others.
I'm on a free plan. Can I use notifications?
Yes, notifications are available to all users.
Are there any other notification types?
Not yet, but there are more coming in the future. Watch this space for updates! :-)