Credits are your TestGorilla currency. One credit is used every time a candidate starts an assessment.
Think of credits as your TestGorilla currency. With 1 credit you can test 1 candidate with 1 assessment. It makes no difference how many tests or custom questions are in the assessment.
For example: if you created one assessment consisting of 4 tests, and you wanted 50 candidates to complete that assessment, it would cost you 50 credits in total.
Depending on your plan, you get a certain number of free credits per month or year. After you've used all your free credits, you'll pay a standard fee for every extra credit added to your account. To make sure a candidate is never blocked from starting one of your assessments, extra credits are automatically charged monthly through the payment option you've selected.
When choosing between monthly and yearly plans, take into account that your credits expire at the end of the billing period. In monthly plans, credits expire after a month, while in yearly plans, credits expire after a year. If you have irregular hiring throughout the year, yearly plans are often the better option.
If you use qualifying questions and candidates don't pass those, no credit will be deducted from your balance.

You can check your credit balance at any time when logged in to your TestGorilla account.
Go to your account details by clicking your name in the upper right corner of your screen.
From the drop-down menu, select "Plan & Billing

." Your current credit balance is shown on this screen (in the example below it's "36").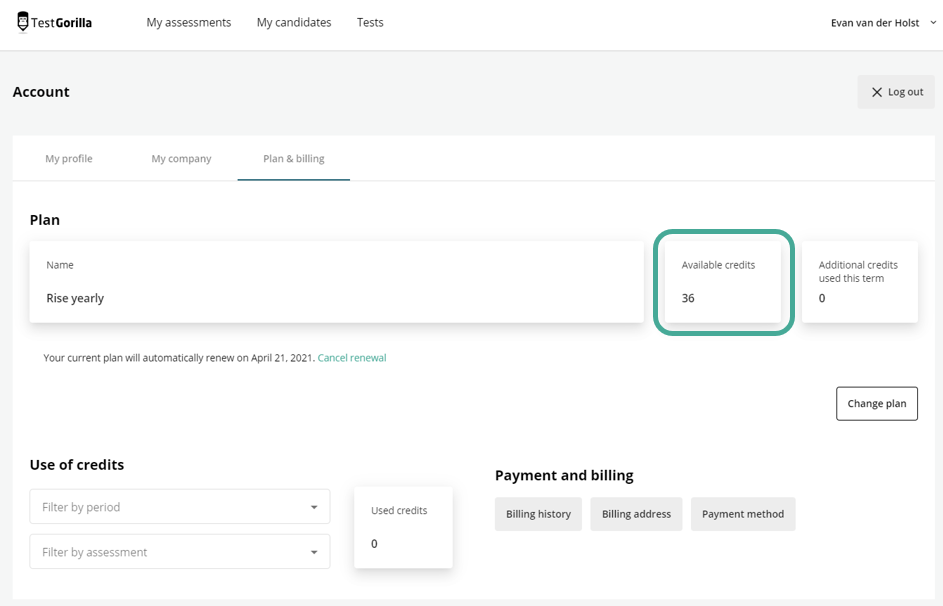 Want to change your payment method? Read this article on how to do it.