Credits are your TestGorilla currency. Here we discuss when they are used, how many you receive, when you're charged for extras, and how to check your balance.
| | |
| --- | --- |
| Applies to: | Pay-as-you-go, Scale, Business plans; Account Owner, Admin, Recruiter roles |
Think of credits as your TestGorilla currency. With 1 credit you can assess 1 candidate candidate with 1 assessment. It makes no difference how many tests or custom questions are in the assessment.

There are a few things to note about candidate credits:
A candidate is defined as a unique user through their email address.
A candidate credit is used each time an assessment is started, not when a candidate is invited.
If the same candidate were to take two different assessments for your company, two candidate credits are used.
Lastly, candidates that are disqualified through the use of qualifying questions are prevented from starting the assessment, so they do not count as used candidate credits.
Note: Users of your TestGorilla account do not count towards your candidate balance. This means that if you want to do some internal testing, having your colleagues try out an assessment before sending it off to candidates, you can invite other users of your account to take an assessment without using credits!
To help understand credit usage a bit better, below are three scenarios and how the credits would be calculated:
Scenario One:
You invite 50 people to an assessment. 40 people begin the assessment and 25 complete it. The other 10 never start.

In this case, you use 40 candidate credits.
Scenario Two:
You invite 50 people to an assessment, using qualifying questions. 40 people attempt to take the assessment but 10 people are disqualified. 25 people complete the assessment.

In this case, you use 30 candidate credits. While 40 people attempted to take the assessment, 10 of them were disqualified, therefore you save 10 candidate credits.
Scenario Three:
You invite 5 people to each complete 3 separate assessments. All 5 people complete all 3 assessments.


In this case, you use 15 candidate credits, because each of the 3 assessments was taken 5 times.
Note: Deleting a candidate that has started an assessment and inviting them to take it again will not restore used candidate credits.
How many credits can be used?
Each plan comes with a certain number of included credits per year. After you've used all the included credits, you'll pay a fee for every extra credit used.

To ensure a candidate is never blocked from starting one of your assessments, you do not purchase these before use. Instead, extra credits are automatically charged monthly through the payment method we have on file for your account.
Checking your balance
You can check your credit balance at any time when logged in to your TestGorilla account.
Go to your account details by clicking your name in the upper right corner of your screen.
From the drop-down menu, select Plan & Billing. Your current credit balance is shown on this screen.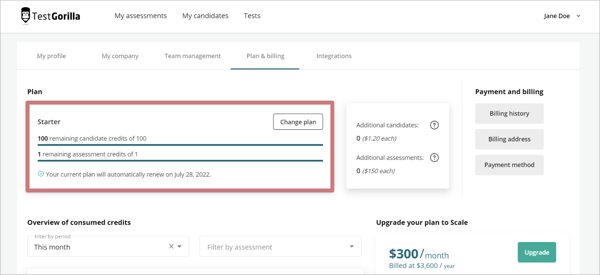 Support
If you still need help, you can always reach out to the support team. We're happy to answer your questions.