Below, we explain why you can't create an account using your personal email address.


Are you getting this error?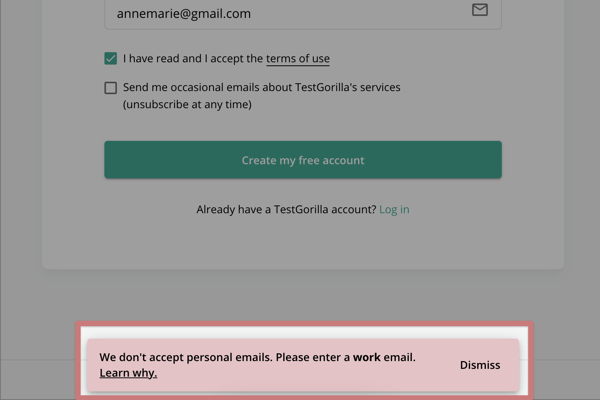 TestGorilla is a software platform designed to help hiring managers and recruiters make better decisions in the hiring process. We provide a service that allows companies to test their job applicants with skills tests.
Because TestGorilla is a tool intended for use by business professionals, we only allow you to sign up for an account if you have an email address associated with a business.

In other words, you need an email address that belongs to a custom, personalized domain. An email address on a domain that provides personal email services like Gmail, Yahoo!, Hotmail, AOL, etc. will not work.


Note: We recognize that some companies won't have a custom domain, or might still get flagged as a personal email address. In such situations, please get in touch so we can help you.
Are you a candidate being asked to take an assessment for a prospective employer?
If so, you do not need to create an account in our system. The prospective employer should have invited you to take the assessment via an email that comes from hello@testgorilla.com

By clicking the link or button found in the invitation, you should be taken to a screen where you will begin your assessment. If you were not specifically invited to take an assessment by a prospective employer, then you are not in the right place!


Support

If you still need help, you can always reach out to the support team. We're happy to answer your questions.